Tatev Monastery, Armenia.
Phase One A-Series, IQ3 100MP, 70mm Rodenstock lens, 1/125 second @ f8, ISO 50
I'm a week back from a wonderful trip to Georgia and Armenia, two very special places if you have photography on your mind. Organised by my Turkish friend and photography guide, Mehmet, I was joined by eight fellow photographers and friends in search of some amazing images and exciting destinations. We weren't disappointed. While both countries are steeped in history and religion, there is so much more to them and over coming months, I plan to show you more photos from this trip.
Today, let's start with Tatev Monastery, one of Armenia's most famous landmarks. In fact, it's so famous and popular, the world's longest cable car will transport you from the other side of the valley, rather than requiring you to take a tortuous 30 minute hairpin drive (which isn't good for larger bus tours). But where is the cable car in this picture?
As you'll see if you click through to the rest of the article, Tatev Monastery is a little different when you view it in situ, yet most of the photos perpetuate the 'myth' that I have agreed to by excluding 'all the other stuff' that surrounds it. So much for truth in photography, even for monasteries!
The overview from the hill above the hill above the monastery!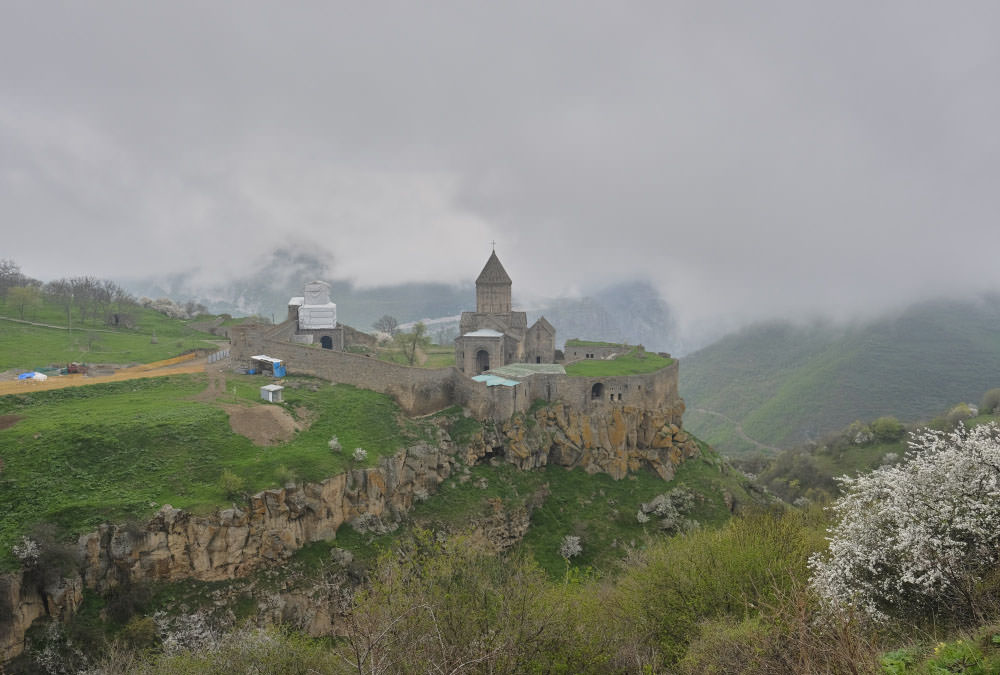 From where the hero photo was taken, with a slightly wider view including the 'extras'.
Looking at the two location photographs, you can see what I mean. But let's not forget that Armenia has a history going back more than 4,000 years, so the fact this place looks as remote as it does, is testament to the inhospitable alpine environment.
I spent a little time in post-production on the hero shot, removing the background roads, covering up the corrugated iron roofing, and removing a few unnecessary power lines. However, the low cloud that helpfully rolled in did most of the hard work for me. Given we had driven through torrential rain and thunderstorms only an hour earlier, the abatement in the weather was much appreciated and the low cloud just perfect!
We spent an hour or so above the monastery, photographing it from several angles as the light changed. The wider view is worth working on, but I will have to steel myself for the post-production needed to clean it up. It's much easier to shoot the world as we find it, rather than as we would like to envisage it. Despite the modern encroachments, nothing can take away the age, the mood and the patina of a location like this, so I think it only fitting to portray it as we 'see' it with our minds.