Aerial With Cloud, Middlehurst, New Zealand.
Phase One XF 100MP, Schneider 80mm lens, 1/2500 second @ f2.8, ISO 200
What is our ultimate aim as photographers? I think it is to produce photographs that please us. There is no guarantee anything we do will please another human being, so that seems to be an exercise fraught with peril, even if it's something we all aspire to do. I mean, I'd prefer it if you liked this photograph.
But it isn't necessary. I like it. It's a favourite. It has been sitting on my work-print board for the last month or so as I figure out what I want to do. I love the simplicity of the composition, the tight cropping, the ethereal cloud in the middle. I like the narrow colour palette and the highlights on the wrinkled, crumpled mountain range that sits behind Middlehurst Station.
I believe our ultimate aim is to produce photographs that we like, that we're pleased with. This doesn't mean we don't share our images with other people, or enter competitions, or take criticism and re-consider what we're doing. All of this is part of the growing experience as a photographer.
But if after some time you reach a point where you're pleased with a lot of the photographs you produce, then I think you've made it.
Of course, this is no excuse for complacency. Just because you like it this week doesn't mean you'll still like it next week or the year after. As we grow and develop as photographers, so does our 'taste' and our 'discernment'. Liking the photographs you take today doesn't mean you have become the best you can, but it does indicate you're on the right path!
And what about this photo in black and white? Click through to the website to see if it works as well.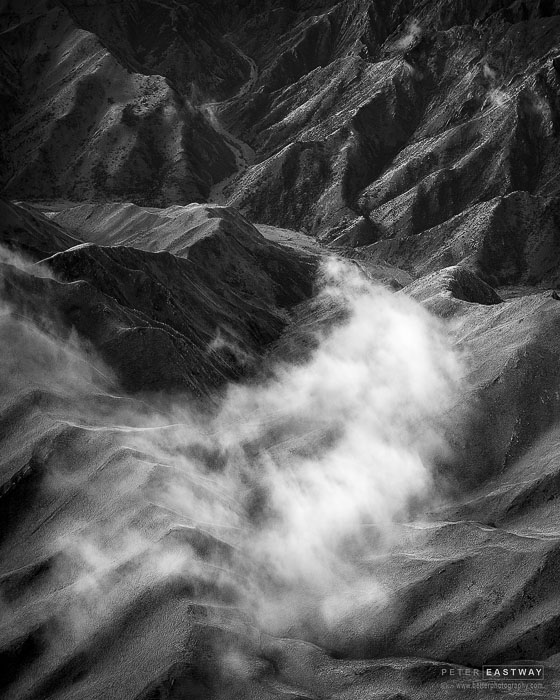 The same file in black and white.
Personally, I prefer the colour version and if I were to turn this into a black and white, I think I would need to spend a lot more time than I have reconsidering the overall tonality and contrast.