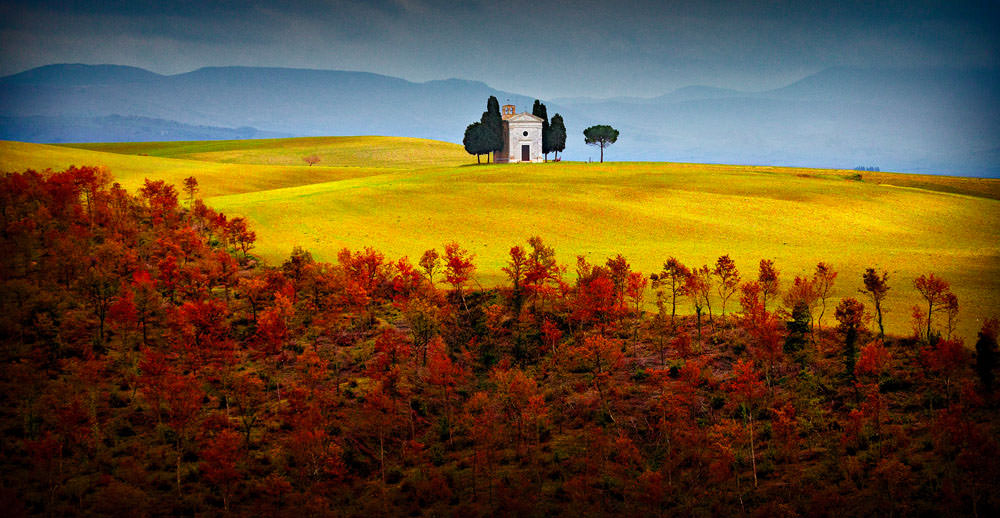 Italy, 2002. Canon EOS 1Ds, Canon 28-135mm lens @ 135mm
1/250 second @ f8, ISO 800, hand-held, no filter
When we arrived in Italy for a two-month holiday with our young family, there were two photographs that seemed to be everywhere we looked. One was a stand of trees in an undulating field near Montalcino, the other a small chapel sitting alone in a field on a hill, and they were on the covers of guidebooks and posters promoting travel within Italy.
Eventually I found them both, having asked every Italian I met if he or she could give me a clue (Google and Google Maps weren't around to help me in 2002).
At the time, we were staying in Orvieto and it was around a 90-minute drive to Cappella di Vitaleta. I visited it three times, researching the best time of day and hoping for suitable light.
It never happened.
The weather simply wouldn't co-operate, so I had to resort to a second-best exposure with poor illumination.
On my final trip, the wind was so strong I couldn't set up my tripod outside the car, so I positioned the car on the road and sat in the back seat with the window down and waited. Every few minutes, the wind would drop, the car would stop shaking and I'd press the shutter button. I spent half an hour with a zoom lens exploring different compositions.
Most of the photos I had seen were of the chapel alone with the small cluster of trees around it, but in reality, just to the right was a large farm building. What I had imagined based on the photographs I had seen was a lone chapel in a vast field, but looking back on the photographs I had seen, I could understand how the framing and composition had fooled me (or perhaps, more correctly, how I had interpreted the scene).
My solution was to remove the farm building. The first time I processed the print was in 2002 using an early version of Photoshop. I used the clone tool to remove the farm building and adjusted the colours to be more inviting. The drab light had really only left me with varying tones of grey, but I could see the potential for colour in the trees below and the surrounding field.
This is one of the first images in which I explored The New Tradition. Not only could I process the file shortly after taking it (that night with a nice glass of red), I could transform my camera's capture into something that better represented my thoughts and feelings about the location.
And some 10 years later, I reprocessed the file. This is not something I normally do because once an image is processed, I find it boring to revisit it. However, I needed a larger version of the file for a client and, looking at my original technique, felt I had to finesse it further. Yet another positive for The New Tradition.
Need a good read? Like to learn something more about photography? Interested in new ideas? Why not purchase a copy of my book, The New Tradition, which is full of great tales and ideas. It has 100 photographs and accompanying stories guaranteed to enthrall you - and you can save $30 on the purchase price right now - use coupon code TNT30. Check out more on the www.betterphotography.com website.