Glass House Rocks, Narooma, NSW
Phase One XT 150MP with 32mm Rodenstock, f8 @ 1/5 second, ISO 50, frame averaging for 60 seconds.
If nothing else, these are interesting rocks! And regular readers may recognise them as I have certainly photographed them before - but never quite like this. Different times, different weather, different thought-processes - it always surprises me just how much you can find to photograph if you stop to look. Of course, you're right to point out that I visited the wonderful South Coast of NSW, but my point is that things that have become commonplace to us can nevertheless be rediscovered with the right attitude?
Am I sounding a little philosophical? It's possibly because I've been teaching with Len Metcalf and his art-based approach to photography has had an effect. Some photo tours and workshops are mainly practical, others have a greater classroom content and while our program was reasonably adaptable, we spent around half our time listening, commenting, processing - and printing!
Both Len and I are strong printing advocates. A photograph isn't really a photograph if you're just looking at it on a small screen. The best way to present a photograph is in a printed form - such as a print, a book or even a card. As Len pointed out, a digital image is just an electrical current passing across a screen, while a print is a separate physical object. It has an existence of its own. It is tangible.
So, two suggestions. Firstly, Narooma is a great destination and there are lots of places within striking distance to photograph.
Second, print your photographs! The Epson SC-P906 I took delivery of last week worked flawlessly, producing beautiful prints that all our participants loved and enjoyed. Thanks to Epson and Canson for providing ink and paper.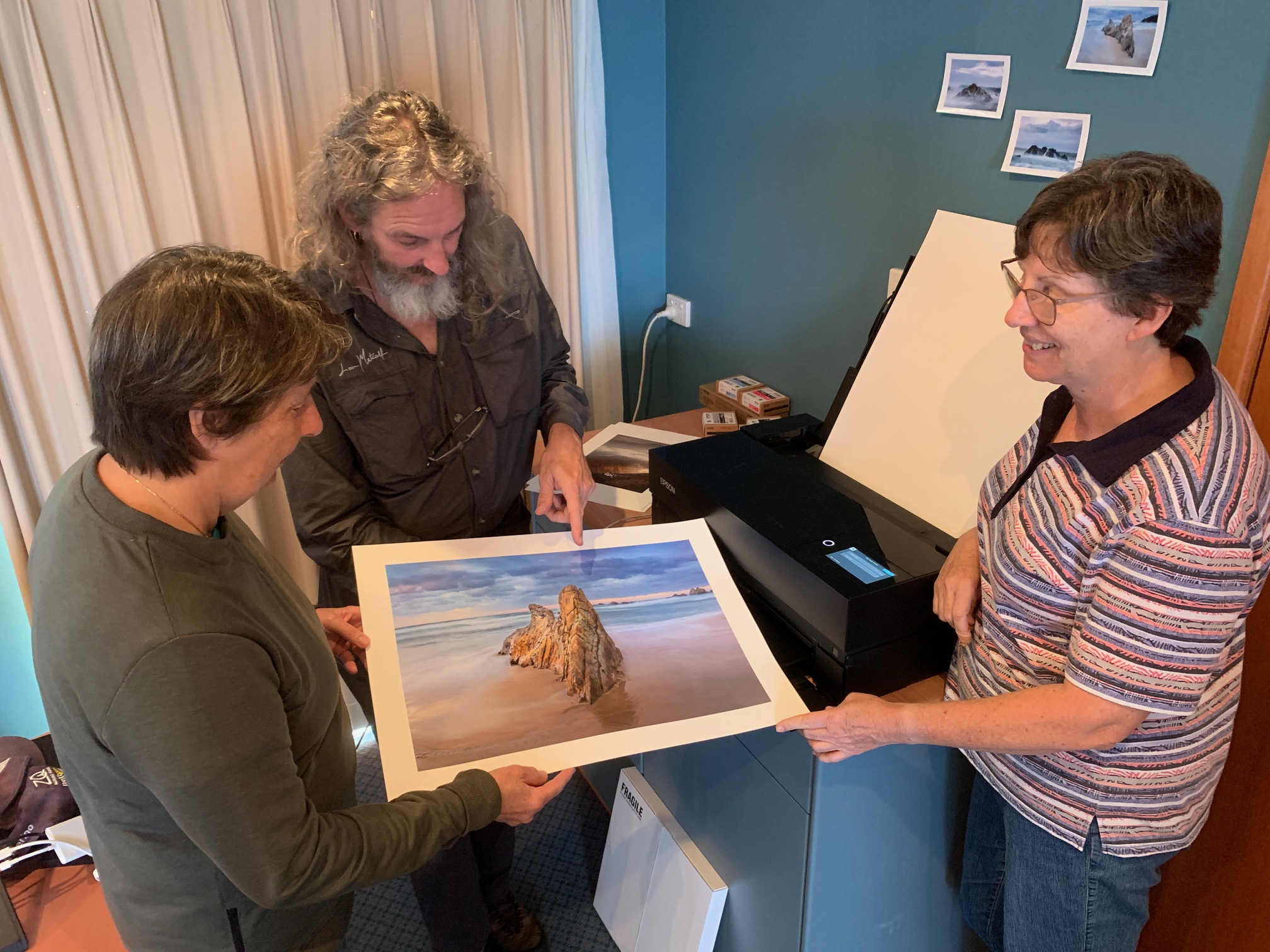 Above, Sue (left) and Julie discuss Sue's beautiful photo at Glasshouse Rocks with Len Metcalf. As you can see, the Epson SC-P906 printer is very small and it fit easily into the boot of my car for transport. We had a pack of the larger A2 Canson Rag Photographique to play with and there's no doubt that size does matter. With our modern cameras capturing so many pixels, there really isn't a reason not to print to A2 from time to time and, interestingly, I can see that Kayell has the Epson P906 printer on its website for $1695. You don't need to purchase one of the larger pro printers because these smaller models produce prints of exactly the same quality - and that print quality is second to none.
Check out the Epson SC-P906 printer here.