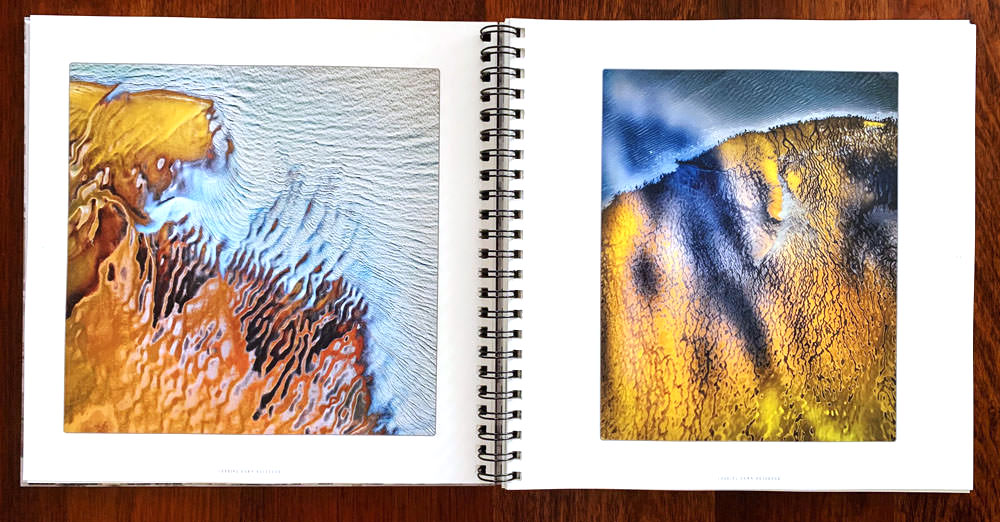 Pages from the Looking Down Notebook, a personal project of aerial photos.
Printed on Eggshell paper and spiral bound by Momento Pro.
I love the printed photograph. Originally, it was something printed in a darkroom or using an offset press. Today it is using an inkjet printer or an on-demand press. And if I'm honest, the quality I'm getting today is so much better than anything I produced in the 1990s and early 2000s.
Next week, I'm travelling. Just a small step from NSW to the Northern Territory where I'm running a number of workshops and photo tours with the AIPP. On the itinerary is an aerial workshop for an afternoon a little north of Darwin. When it comes to aerials, I have a preference for the 'squarial', the almost abstract pattern shots that are created by looking directly down from the aircraft and excluding the horizon.
To give the presentation, I thought it would be nice to share some of my work in the printed format, so I put together around 90 images and sent them off to Momento Pro for printing on their Indigo press. I'll also take a few prints made on my Epson SC-906, printed on Canson Rag Photographique. Are there differences? Of course! When you read your paper edition of Better Photography, as good as the reproduction is (also printed by Momento on an Indigo press), a four or six colour device can't match the 10 inks in an Epson printer. And Momento itself offers a premium printing service where it also uses exactly the same types of Epson printers photographers do to print the pages.
What I love about the printed image is being able to linger on the image, to see the detail just by moving my eyes, rather than enlarging and scrolling around. If you don't have your own printer, there's nothing stopping you from having some of your best images printed by someone like Created for Life or Brilliant Prints. Send them a digital file and they'll send back a physical print.
Ignacio Palacios and I are doing a short photo and printing workshop at Sydney's Blue Mountains at the end of June if you're interested in knowing more (here's the link), and while the Darwin workshops are all sold out, there's an evening talk on Tuesday 18 which has seats available (see https://aipp.com.au/events/ for details).
Below are a few more spreads from my Looking Down Notebook. And I hope I've encouraged you to make a few prints!